I belong to a Punjabi family. In our house, hospitality and 'feeding till you can breathe no more' are synonyms. Till the guests who have come over are not fed beyond the retention capacity of their stomachs, they have not been treated well. Punjabis love to eat, period. The cities of Punjab, especially Amritsar are particularly known for oil-dripping, calorie-rich irresistibly yummy food that is bound to increase a person's cholesterol by leaps and bounds. That is not a deterrent though. Why? I did mention it is irresistibly yummy, didn't I?
We Punjabis have large hearts and huge appetites and expect the same from everyone. Therefore, needless to say that treating a Punjabi family is like a food festival. Go wrong and you run the risk of spoiling relationships and prospective business ties.
A couple of years ago, when we had recently moved to Dehradun, hubby got a call from his parents that his father's cousin who was settled abroad was in India and was planning to visit Mussourie. Dehradun is on the way so the family would be stopping by for lunch the next day. The 'buaji' had not been able to make it to our wedding and had therefore expressed desire to meet the new
bahu
. My husband heard it all and yet very conveniently forgot to mention it to me. Later that night, when I was about to retire to bed, he remembered.
'I forgot to tell you. London
waale
Buaji
and Uncle are in India. They will be coming over for lunch tomorrow, around 2.'
Sleep vanished and I stood up upright on the bed,'What? You are telling me this now?'
'I am sorry. I forgot!' he shrugged his shoulders.
'How will I manage? I have office tomorrow.' I was irritated.
'Try and take a half day off please. Food, we'll order take-away. A few the maid can make. You just need to be present, is all.' Saying this, he smiled and turned to sleep.
I was sleepless. I had heard a lot about this relative. Minty Bua was a robust Punjabi woman fond of eating and treating. Though she was a cousin
bua
, she was a significant figure in the family. She cooked extravagantly even in London and was known to be very finicky about the salt and seasonings in food. I didn't cook much. The lunch was going to be a disaster. Even if I took half day,I would be home by 1:00 PM. My maid could cook basic
dal-sabzi
but nothing beyond that. It was going to be a tough day. I dozed off thinking of all I could do and everything that could go wrong.
The next morning,I woke up with a headache and rushed to office after instructing my maid to prepare
dal makhani
and mix Vegetable. I was planning to pick up a chicken dish on my way back. I managed to convince my boss for a half day leave as well. So far so good. Maybe it was going to be okay. Maybe I was over-reacting.
I called my maid to confirm if everything was alright. She replied in affirmative. Smiling, I got up and left for home. When I stopped in front of a renowned restaurant and put my hand in my bag to take out the purse, it wasn't there. I realised that I had taken it out the previous day and forgotten to put it back. Cursing myself, I restarted the car and headed home, planning to order home delivery. I have this habit of forgetting things, particularly so on the days that I should not. As a little child, I definitely forgot the book I was told to carry the next day to school. Well, that's me. With an air of urgency, I ran up the stairs and rang the bell. No one answered. I rang it again and yet no response came. I called up on my maid's mobile. She didn't answer. I was getting worried now. She was inside for sure. Why wasn't she answering?? I got the answer in another couple of minutes when she opened the door and the look on her face said it all.
'What happened? Is everything alright?' I did not even wait for her to answer and rushed inside. A pungent smell and smoke greeted me as I entered the house. My worst fears came true when I traced the source to the kitchen.
'
Memsaab
, dal got burnt. I just went to iron a few clothes and forgot that it was on high flame.'
I was so upset that I could not even scold her. It was 1:30 PM.
'Open all the doors and windows. Take the cooker outside.' I instructed her and put on the apron. There was no time to worry and fret. On inspecting, I discovered that she had indeed made mix vegetable which looked palatable and maybe a little seasoning was all that was needed. While she worked hard to get rid of the stench, I put the mix vegetable on the stove again and added a little
kasuri methi
to it. It looked and smelled better. Happy with the result,I kept it aside and called up a take away joint for a
kadhai
chicken and a
dal makhani
. They guy told me he would take half an hour. I was back on track again. Now I just needed to concentrate on veg
biryani
and chapattis. My maid had already chopped the veggies. A little confidence arose within me. Hubby came home and thankfully brought gulab jamuns along. I told him of the calamity we had survived and he laughed it off.
'You worry too much. Bua is not a monster' Maybe she wasn't but I was scared nonetheless.
Picking up a spoon, he sampled the mix veg.
'What is this?' he asked.
'Is the salt less?'I enquired and took a spoonful myself.
The sabzi tasted like it had been sprinkled with dust and something felt gritty under teeth. It wasn't so when I had tasted it earlier. Oh shit! It must have been the kasuri methi. I looked at the clock-2:00PM !
I lost it now. I was crying and panicking, not knowing what to do. I was about to be roasted. The delivery guy was also nowhere to be seen. I could not have him entering after the guests. I was supposed to be cooking. Hubby called up bua ji and was told that they would reached after fifteen minutes.
I then called the restaurant and was informed that the delivery guy had already left. Crossing my fingers and praying to the Almighty, I changed my clothes and dressed in traditional salwar suit for welcoming the guests. Twenty minutes and five calls later, the delivery boy was still nowhere in sight. The doorbell rang and I almost skipped a beat. It was Bua ji and her cavalry. I was at my wit's end. It must be karma, I thought! I must have done something to deserve this. I took a deep breath and began the cycle of
pranaams
and
pairi paunas
.
Let me tell you here that NRI Punjabis are a very different class. If we Punjabis are loud, the NRIs among us are stylishly loud. They do everything we do, they just add 's' and an accent to everything.
'Main bauhat hungry haan beta. Lunch ready haiga?'
I smiled again and nodded, absolutely clueless about what to do. My husband looked at me. Now he seemed upset too and that freaked me out all together. I excused myself and went to the kitchen.
What was I going to serve them?
It was embarrassing.
I went out to serve tea and gestured at my husband to come and have a word. I told him that the only way out was to speak the truth and take the guests out for lunch. He agreed. Just as he was about to leave the kitchen, I saw through the kitchen window a delivery boy park his bike downstairs. He seemed God-sent(I wasn't giving credit to the idiot restaurant owner). How was I going to get the stuff inside without the guests knowing it?
I had an idea. I called up the lady who lives downstairs and also happens to be a good friend. The delivery boy took out the packets from his bag.
'Hi! Leave everything and just receive the order that has come. The boy is about to climb the stairs.' I whispered into the phone.
'What?' she was puzzled.
'Just do it. Will explain later.'
She must have understood as the bell did not ring and I saw the delivery guy leave sans the packets.
Now I had to sneak out and get the food.
I thought leaving matter-of-factly would be least suspicious.
As soon as I stepped out, bua ji called.
'Where going beta ji? Come sit with me and gallan karo.'
I had to go.
'Just coming bua ji. Two of my casseroles are with the neighbour. Just getting them.' I made it up so spontaneously that I was proud of myself.
She was convinced.' People don't return things nowadays. Learn to say no to undeserving people. You are so bholi-bhali'. I nodded and left.
I was back in five minutes, holding two casseroles, one containing chicken and the other dal makhani and went to the kitchen in front of the guests. No one could guess that the hot cases weren't empty but trust me, picking them up, one in each hand, as if they were empty was very difficult.
I felt like doing a victory dance in the kitchen.
Within ten minutes, the table was laid with dal makhani, karahi chichen, veg biryani, raita and salad(thanks to my maid) along with buttered rotis.
Bua ji adorned the chair at the head of the table while her children and my husband sat around the table. She carefully took small portions of everything and then inspected her plate. I held my breath as she took a spoonful.
She smiled! I heaved a sigh of relief. Her smile was a compliment in itself as she never vocally expressed any praise but if she did not like something, she would be anything but quiet.
Bua ji enjoyed her meal and the
gulab jamuns
in the dessert and kept on telling us between helpings that she was on diet.
The meal was over and Bua ji took out a shining, colourful pouch from her large purse and handed it to me.
'Shagun for you. God bless you beta.' She kept her hand on my head and blessed me.
I was overjoyed. As we bid farewell to the guests, I was beaming with pride. I had just managed to avert a disaster and had survived an ordeal I never thought I could (thanks to the events of the day.)
Maybe God was on my side that day!
Now when I look back on that day, even I find it hilarious. That day though, it felt nowhere near funny. A few days ago, when I was narrating this incident in a gathering of close friends, one of them told me about TinyOwl app and the first thing that came to my mind when I explored it on PlayStore was,
'I wish I had TinyOwl that day. It would have truly saved me from the nightmare!'
Comparing restaurants and ordering food, even from multiple joints is extremely simple. It is so convenient and time saving. It is truly an intelligent app, just like a wise owl and maybe that's why it is even named so.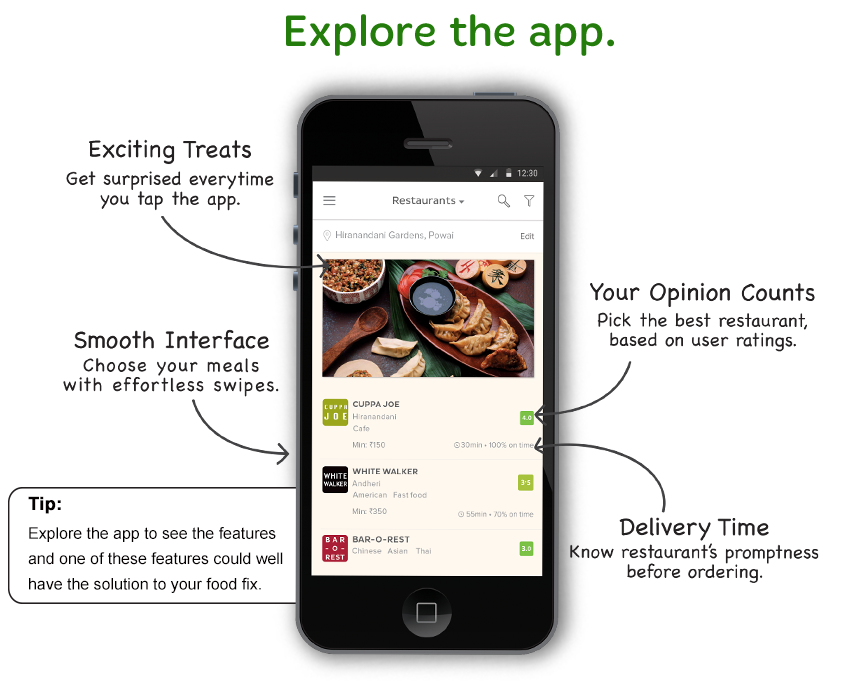 The app detects your location and shows restaurants around you. You can even select different items from different restaurants. The entire process of ordering(except the time you take in choosing of course) takes under 30 seconds. Incredible!
TinyOwl is available on both
android
and
iOS
platforms. Do try it out. Trust me, it will end all your food worries. It is the smartest and the fastest way to order food.
Maybe they should have a tagline- 'How to fix a food fix-Use TinyOwl!'
(Hope Bua ji doesn't read my blog. She still praises my karahi chicken and dal makhani, I hear!)